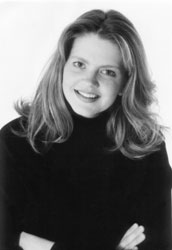 Owner/Executive Director
Mad Banana Creative Services
Anchorage

AGE: 29

EDUCATION: B.A., Communications, Penn State University

COMMUNITY INVOLVEMENT: Volunteer, March of Dimes, Anchorage

MARITAL/FAMILY STATUS: Married to Brian; two daughters: Madelyn, 3, and Hannah, 2

PERSONAL INTERESTS: Spending time with family, watching movies, scrapbooking
Former Alaska television anchor and reporter Michelle Delaney, 29, last year opened her own public relations and advertising business, Mad Banana Creative Services. In her first week in business, she signed on Gesine's Restaurant, and a few months later added Animal Food Warehouse to her growing number of clients.
Delaney gained valuable experience as a media liaison and ad buyer while working in the highly competitive market of television news. In Anchorage, she worked as anchor and reporter at KIMO Channel 13 and KTVA Channel 11, as well as morning radio show co-host for KGOT 101.3 where she produced two newscasts an hour. In her many news roles, Delaney skillfully used her assertiveness, knowledge and humor to convince lawmakers, business people and everyday Alaskans to agree to share their stories and views. Her hard work helped craft award-winning news stories at KIMO.
Today, Delaney uses her television and radio savvy to help small Alaska businesses purchase air time. She also is the host of the Alaska Real Estate Showcase, a show that spotlights homes on the market in Anchorage every weekday on PAX TV.